Adrian J Cotterill, Editor-in-Chief
ZetaDisplay has been approved for a listing on NASDAQ OMX First North Premier and the first day of trading will be on 4th April 2011. The company will also launch a new share issue of MSEK 25 aimed at a number of major investors.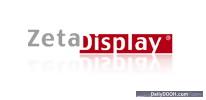 Since it was founded in 2003 the company has become a leading Nordic supplier of Digital Signage, with subsidiaries in Denmark, Finland and Norway.
The company's turnover in 2010 amounted to over MSEK 50, which showed a growth of 64% compared with the previous year.
The company's clients include amongst others ICA, Euromaster, Alko, Volkswagen, Shell, KotiPizza, Carlsberg, Team Sportia, SJ, Panasonic and Bilia.
CEO Leif Liljebrunn told us "We are convinced that the market for Digital Signage will continue to show strong growth in the next few years. The listing of ZetaDisplay shares improves the possibility of expansion, both in existing and new markets, by increasing our visibility and strengthening confidence in the company. Having liquid share that can be used as a means of payment for acquisitions and access to the capital market are also good reasons for a listing. This should also be seen as a step towards a main market listing on NASDAQ OMX Stockholm,"
The Board includes Anders Moberg, former Group Manager of IKEA and several other international retail chains, and Ingrid Jonasson Blank, former Deputy Managing Director and Marketing Manager of ICA Sverige. Legal counsel Rolf Eriksson has been Chairman of the Board since 2003.
The shares will be traded under the shortname ZETA.
First North Premier is a trading market designed for companies which are seeking higher investor visibility and preparing for a main market listing on NASDAQ OMX Stockholm.
Among the larger investors in the new share issue are Alfred Berg, Salvatore Grimaldi and one of the larger pension fund in the region.
The new share issue is being implemented with the aim of strengthening the financial position of the company in preparation for further expansion of its business.