Gail Chiasson, North American Editor
Hooray! And we must say that at our suggestion and urging, the Strategy Institute and the Digital Place-based Advertising Association have booked their big industry events consecutively in the same week in October, making it easier for attendees who have to travel to attend both events during the same trip.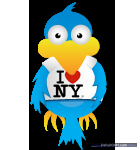 The Strategy Institute's 6th Digital Signage Investor Conference – always a heck of a good event – will be held Oct. 17 and 18, followed by the equally great DPAA Digital Media Summit Oct. 19 and of course this makes a lot of sense since many of the same people attend both.
The DPAA event will be held at the Marriott Marquis in the heart of New York's Times Square. No news yet on if the Investor Conference will be at the same venue or close by (it will NOT we are definitely told be at the same hotel as last year – the Roosevelt Hotel was a little too far out of the heart of NYC for most people).
We haven't heard any news yet from the PRN Upfront – one of our favourite events last year – but oh, how nice it would be to have it the evening before the Media Summit as happened last year
In the meantime, Sue Danaher, president of the DPAA, says that, now that dates and place are contracted, François de Gaspé Beaubien, chairman of the DPAA's Marketing Committee, and the team will be working hard on getting a strong agenda in place.
Adrian is working with the Strategy Institute at the moment helping them line up their speakers.
Add the dates to your calendar of must-attend events right now!