Gail Chiasson, North American Editor
The American arm of MultiTouch Ltd., Helsinki, Finland-based developer of modular multi-touch LCD screens for large-scale displays, has collaborated with Portland, Oregon-based interactive design firm Second Story to create an interactive multitouch table for the University of Oregon's Ford Alumni Center in Eugene, Oregon.
The table consists of a single surface that is comprised of four 46-inch MultiTouch Cell units. Users can touch, O shapes on the university's logo in opposite corners of each of the four displays. When the Os are touched, users get a dialog box that enables them to search the entire university alumni database by searching on name, year, or special events.
As an integral architectural element of the Ford Alumni Center, the table is positioned in the center of the building. The design motif, a cascade, includes a flow of Os that are animated in the background on the table. When users interact with the background, more Os are spawned from their fingers. Messages can be sent to any of the 240,000 alumni through the alumni center's web site, and they appear on the table.
MultiTouch and and Second Story collaborated for four months to develop the specifications and the system design for the multitouch table.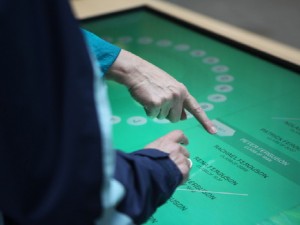 "Search systems in public buildings are usually static, single-user displays," says Timo Korpela, general manager of MultiTouch Americas. "We have worked with Second Story to create a compelling interface that is playful, elegant, and respects the space in which it is installed. The University of Oregon understands the value of branding itself with leading-edge design and technology, and we were pleased to deliver an application that delivers great functionality with high-concept design.".
MultiTouch's patented Computer Vision Through Screen technology, which reads at 120 frames per second in bright daylight or dark environments, is complemented by MultiTouch Cornerstone software that translates touch into the programming experience, creating multitouch displays that can read unlimited touch points, including hands, fingers, 2D Markers and real life objects. The products are targeted for broadcast, retail, advertising, exhibitions, museums, education and design. Introduced to the global market in 2009, the MultiTouch Cell product family has been sold in more than 40 countries.
In other unrelated news, the state of Oregon has recently approved a measure to allow electronic billboards with rotating static images that stay on the screen for at least eight seconds and don't 'create the appearance of movement'. Some cities in the state already allow digital billboards, but the bill would now permit them along state highways.