In a PR-heavy industry such as ours, it's always nice to bump into a live example of an installation that may have been previously covered solely based on images, interviews and news releases from participating partners.
Yesterday I had an opportunity to use the below pictured kiosk at Toronto's Scarborough Towncentre location of Nutrition House, a heath foods franchise working with Toronto's Planet-Tek on deployment of their MarketPlace Station interactive kiosks.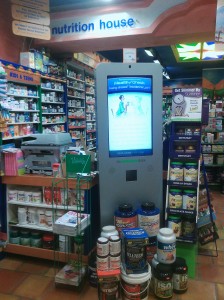 Originally covered by the DailyDOOH team in May 2010, this roll-out is part of PlanetTek's focus on interactive solutions for the heath food industry.
The kiosk was responsive and functioned well allowing for some research on select brands featured on the home screen. It also offered an option to scan the UPC code for any on-shelf products for additional product information.
Unfortunately (and possibly a merchandising hic-up) none of the products stacked at the base of the kiosk were 'found in the system'. I tried other products in the store and the system appeared to work well. Mechanics of the scanning process were quite intuitive and the software response very quick.
Finally, before leaving I smiled into the pinhole camera on top of the display where i knew Intel Anonymous Video Analytics (AVA) system was busy processing my demographic profile. Although knowing that the system is 100% automated and no identifying information is ever recorded, the conspiracy theorist in me thought that maybe just this once, bored on lunch, the guys in the former CognoVision office (now part of Intel) are staring at me live though the camera!