Adrian J Cotterill, Editor-in-Chief
If you are going to any of the events the industry has for you in New York in October (#DSinvestor Conference, DPAA Media Summit, DPAA 'International Day') or November (#CETW) and if you haven't booked your hotels yet (and are not staying at the preferential / discounted event hotel of choice) there are couple of new'ish NYC hotels which might be worth looking at.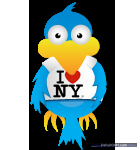 We've always struggled finding nice but reasonably priced hotels which can also be a bit of fun, so here's our selection…
Described by many of the UK Weekend newspapers as the "hippest new option" the Nolitan Hotel is the first luxury boutique hotel in the downtown district that sits just north of Little Italy (hence its name). We think it is reasonably priced with doubles starting from USD 323 a night
ALOFT (part of Starwood Hotels Group) has also opened ALOFT HARLEM which is Harlem's first new hotel in 40 years and we are told that it is very nice. Doubles here start from USD 209 a night.
The largest hotel opening in New York during 2011 was the new Yotel Times Square located at 42nd Street and 10th Avenue, It features 669 cabin rooms. Rooms here start from USD 296 a night
The Yotel is our most likely choice at present.