Adrian J Cotterill, Editor-in-Chief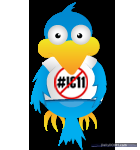 Twitter hashtags are made up, pre-agreed, universal and hopefully unique (or they lose their usefulness) and we use them a lot and help promote them of course for industry events and conferences.
We list the commonly used industry twitter hashtags for the major events here but as we have a number of events that we will be attending this week and next where we and others will twitter we thought it worthwhile to list what will be in use for those that want to follow …
#ibc11
#plasashow
#scalaconf
#doohbizkonf
Apart from the last one perhaps – which refers to the invidis organsied OVAB Europe 5th Digital Signage Conference they should all be self explanatory. #ibc11 and #plasashow are both the OFFICIAL event hashtags so there is no repeat of the #ic11 vs #infocomm11 debate.