Central Moscow, as we experienced first hand when we went to the DigiSky conference earlier this year, suffers from big traffic jams.
Perhaps this provides advertisers with a captive audience? Well, who knows but a new LED 10mm screen from Lighthouse is taking advantage of this (if that's the case).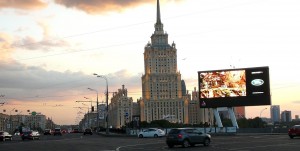 Positioned at the major intersection of Kutuzovskiy Prospekt and Krasnopresnenskaya Naberezhnaya, the screen is located in front of the Parliament building and is seen by many thousands of Muscovites each day. It was installed by Newform International, one of the country's most successful advertising companies.
"The customer chose Lighthouse 10mm panels again because they were really impressed with the quality and reliability of the panels used in a previous installation in Bolshaia Dorogomilovskaia, which is in a strategic position and visible to millions of people every day," says Lighthouse project engineer Olaf Mineo.
"The first screen has worked without any problems whatsoever and proved itself exceptionally resistant to the tough winter conditions in Moscow."
Comprising a 12 x 6 panel (15.36 x 5.76m) main screen, plus a 1 x 6 panel (1.28 x 5.76m) vertical strip, all of Lighthouse 10mm panels. The content is streamed using SCALA software with control via the internet direct from a central office. This system utilises pixel mapping, thus ensuring the screen is used to its full potential, running high quality advertising content specifically designed for use with the Lighthouse screen.