A new UK-focused event called xSolutions was launched in October 19-20 at Excel London. Organised by IML group, the publishing house for audiovisual magazine InAVate, the show was aimed at professionals who sell, install, purchase or have responsibility for the day-to-day running of audio and video communication technologies within commercial facilities
I visited the show on the second day and, although it didn't seem to be very busy, the general comment from the exhibitors was that the quality of the enquiries they had was very good. There was a mixture of manufacturers, installers and distributors showing their products and services. Considering that this was the first event, it was not bad, but I would like to see a more defined profile to the show next year.
From the digital signage sector, however, there was not a lot. The one company that was strongly showing their products and solutions was Vueinti.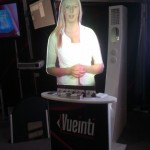 With products ranging from interactive mannequins, video walls and 3D digital signage Vuenti even took on the running of the signage for xSolutions. All its screens and the touch screen information display for xSolutions  run from one central server using Wallflower digital signage management software.
The Herefordshire-based company was founded in 2008 and it defines itself as  an innovator, manufacturer and distributor of display technology and Digital Signage solutions.
Kevin Griffin, in charge of Logistics & Project Delivery at Vuenti said that what the company does, is to make its clients dreams come to life. "We know the technology and the market and we know how to make things happened. We have a wide range of displays and if content is needed we can also deliver it."
Exterity was showing some applications of its IPTV offering for the digital signage sector. Its new AvediaStream Transcoder, enables organisations to repurpose content to reach a wider audience. HD sources can be transcoded for delivery to the desktop, over Wi-Fi to mobile devices or for distribution over WAN/internet to remote offices and employees. H.264 MPEG video streams can also be converted to MPEG 2. It can integrate with third party technologies including digital signage providers, existing SD TVs, STBs and specialist AV equipment that doesn't support broadcasters' emerging preference for H.264 transmissions.
Mitsubishi was had its range of HD LCD displays, ranging from 32″ to 65″, designed for digital signage applications within retail environments, public information points, reception areas and meeting rooms.
Paradigm, a UK distributor company that already works with GestureTek on interactive displays, was presenting a new range from Displax that includes touch tables, Displax Oqtopus and Displax Pathfinder solutions. The multi-touch 42" LCD screens are configured landscape or portrait respectively.
AV distributor Steljes had MediaTile on its stand and AMX was showing an Inspired Signage Wall.