Adrian J Cotterill, Editor-in-Chief
The agenda for the one day #DiSCO12 event that traditionally takes place the day before #ISE2012 proper in Amsterdam each year (that will be 30th January 2012) has now taken shape.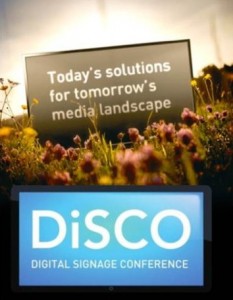 The agenda (which we think is final) is: –
09.00 Welcome Address:
Oliver Schwede, invidis consulting
09.10 Keynote Address
Oliver Schwede & Florian Rotberg, invidis consulting
10.40 Engaging Customer: Mobile Phone Applications for the Retail Ajay Chowdhury, ComQi
11.50 Emerging Technologies: Gesture Control
Dr. Ulrich Leitner, Fraunhofer Heinrich Hertz Institute
12.30 Interactive Sales in Retail: Next Generation Surface. Samsung development partner
14.00 Engaging Customer: Interactive Retail Media. Denis Zeltser, VIVID Interactive

14.30 Entering a new Dimension: 3D Digital Signage for Premium Retail. Michael Russo, Tridelity
15.00 The Global Digital out of Home Market 2011/2012
Dr. Leo Kivijarv, PQ Media
16.30 The Downfall of the Silent Movie: Audio in Digital Signage for Retail. Kari Mettala, Panphonics Oy
17.00 Moving Pictures: Digital Signage in the Sports Sector. Mike Schaiman, Helios Interactive
17.30 Selling Phones thru Screens: Innovative Retail Concepts at Elisa (Finnland). Roland Grassberger + Customer, Grassfish
18.00 Wrap Up. Oliver Schwede, invidis consulting
Denis Zeltser from VIVID Interactive has been the best presenter to date in both the recent Moscow events and so there's no reason to think he won't be on fine form again in Amsterdam.
As Giuseppe Andrianò demonstrated to those who attended the Munich Content Day (look carefully at the picture here and you can see some of the technology in action) the Fraunhofer Heinrich Hertz Institute have been developing some great technology recently.