Adrian J Cotterill, Editor-in-Chief
We usually do ten CEO Spotlights in any one year (missing out the vacation period that is often August, and December for obvious reasons).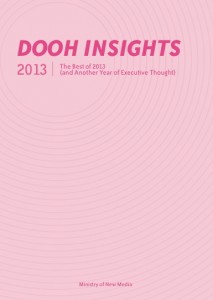 As an integral part of our CEO Spotlight series (now in its sixth year) it's also that time of the year that DOOH INSIGHTS Volume 2: The Best of 2013 (and Another Year of Executive Thought) has been published.
Unlike last year's Volume 1 which purely covered executive thought from 2008 to 2012 this year the book has grown to encompass a little more thought leadership, insight (of course) and a look back at the year.
To that end the content looks a little like this: –
Foreword
Preface
The DailyDOOH Best of 2013†
2013 Dominion (this year's CEO Spotlights)
VUKUNET. The Story of a Corporate Startup
The DailyDOOH Gala Awards 2012. A look at last year's finalists
Distribution of DOOH Insights Volume 2: The Best of 2013  started in October, first during New York Digital Signage Week (and beyond, with distribution confirmed for #dse2014 and #2014SignExpo).
You can view, in our archive, all of our previous CEO SPOTLIGHTs by clicking here
† This is usually published online between Christmas and the New Year, see for example 'The DailyDOOH Best Of 2012'