Adrian J Cotterill, Editor-in-Chief
We've seen UCView at a few of the American digital signage trade shows, but the Los Angeles-based company keeps a low industry profile and has, apparently, quietly built up a strong book of business in that country and Canada.

The company develops digital signage software, and it has historically positioned itself as a self-hosted system with a low cost server, easy, flexible software and pricing that's relatively low for the sector. The company works with many mid-sized retailers and in the petrol and hospitality industries.
UC View has now joined the list of companies that have tried or continue to target the entry-level, small business market. UCView founder and CEO Guy Avital gave us some exclusive insights into how what his company offers is differs from what's already available.
"The new product is called SignEdge,"
Avital told us,
"and the difference is that while it is low cost and simple to use, it's also very powerful and filled with the kinds of features that aren't normally part of these starter products."
Indeed, many software companies – Scala, BroadSign, Nanonation, SignageLive, EK3 and Nanonation among them – have launched easy, fast, quick, rapid or choose-your-adjective products positioned as digital signage in a box. Both LG and Samsung also have entry-level software available, with Samsung's dumbed-down all the way to running off a USB thumb drive.
Avital says SignEdge incorporates just about everything that's part of UCView's core, self-hosted and server-based platform, but strips out all the technical terminology and user experience for something that's heavily visual.
"Our goal was to offer something that anyone – even if they didn't know a thing about digital signage – could use with little or no training," he explains.
The solution is a UCView-specified PC – using the Intel Atom CPU and Nvidia's newest Ion2 graphics processor – pre-installed with software that is both the player and server. The player just needs an Internet connection and power, and then whoever turns it on to start management just needs a browser open to type in a short numeric string – activating that unit. Then the operator can start laying out the display, uploading or building content, and scheduling programming.
"Networking manufacturers have made it really, really simple for anyone to set up a wireless router in their home. That used to be a very intimidating job for someone who's not technical. But now it's just a matter of typing an IP address," explains Avital. "That's just about exactly the extent of what's needed to get SignEdge running."
The bundle will primarily be sold through resellers, and end-users will buy the hardware-software bundle upfront, and face no further subscription fees. Final pricing is still being determined, but will be less than USD 1,000 one-time.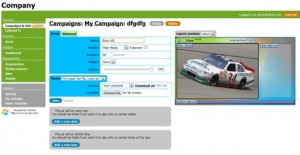 For that, buyers get a platform with full scheduling, distribution and management capabilities, plus a built-in content design and creation engine, advanced touch-screen and mobile marketing capabilities, and a free app store offering more than 50 tools for dynamic and auto-generated content, such as a QR code generator, Twitter and other social media visualizations, local messaging and menu board tools.
Avital says the platform – from the user interface and screen outputs – is now in three languages: English, Spanish and French. Adding more languages, he told us, is a fast, easy process and Portuguese (for the booming Brazilian market) is among a few languages to be added soon.
The SignEdge bundle is now shipping, and we'll be interested to see a demo and hear how this latest effort to crack the huge but still somewhat elusive SMB market pays off.
About UCView

UCView is a worldwide digital signage solutions provider providing top-quality digital signage application solutions and content management software that is not only reliable, but easy and efficient to use, and affordable to operate. The objective of UCView is to allow for the convergence between display owners, the advertisers, and consumers. UCView is responsible for the installation and support of thousands of systems across the spectrum of business industries, including retail, supermarkets, government, education, hospitality, and financial. UCView is a private company and its international headquarters and main manufacturing facility is located in Northridge, California.