At #ISE2012 YCD are co-exhibiting with their Italian partner Hantarex on Stand #11E70 – of course they are, when was the last time they took a stand on their own anywhere in the world, Ed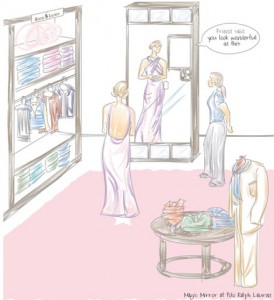 It looks like ComQi's delayMirror will not be the only retail mirror on display in Amsterdam as YCD's Yael Elstein tells us "We'll be showing our Magic Mirror application – it's an application designed to bring social media to the store"
Customers can try on items from the store, take a picture and upload it to Facebook, get their friends feedback and share their experience at the store.
For those of you possibly as confused as us this is NOT the same as the Magic Mirror that is part of Meta Technology.
Anyway, it's going to have to be really good to compete with the brilliant FaceCake swivel which Adrian and Andrew saw on the Microsoft stand at #CES and many of you would have seen at #NRF12 as well.