Adrian J Cotterill, Editor-in-Chief
So, what a week it has been. It started off for us (at least dry) on Sunday absolutely freezing cold (then as we emerged from a bar at 01:00am Monday morning it started to snow) and gradually got even colder! When the event finished late on Thursday afternoon it was still -3 outside the RAI!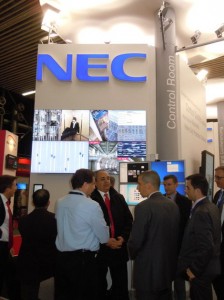 It was, surprisingly, the Belgians (and not the French) that caused the first travel disruption of the week – a strike of some sort mean that the Thalys high speed train could not come from Paris through to Amsterdam, meaning some disruption to Monday's #AOpenForum and various day zero stand building.
The largest snowstorm in 27 years hit Northern Italy and I don't think any of our friends or acquaintances from the region made it to the show.
Mind you, none of this affected the show numbers. A mind boggling 40,000+ people descended onto the RAI for the 9th ever show (yep, it all started nine years ago in Geneva).
Who knows what the organisers will have to do for the tenth show in 2013 in order to top this one?
So what were our impressions?
3D is becoming increasingly marginalised. Whilst some folks were talking it up, it had none of the hype or excitement of years gone by
There are plenty of walking dead digital signage vendors around at the moment but UK, Cambridge based Camvine became the first OFFICIALLY dead one. There will be plenty more as the year progresses
If Samsung can 'get' software the next decade could belong to them and not to Apple
The organisers of the InAVation Awards 2012 claimed that they "Recognise ProAV Excellence" and they sure did. It's nice for once to see awards that are truly impartial. The finalists and the winners were all incredibly well deserved
Content is getting better (I don't think we saw one James Bond or PIXAR movie) and better still exhibitors are learning to put their products and solutions in a proper context
Shape is here. Several years after coining the phrase "Shape is the new king" it has finally come to reality and we saw lots of innovative use of shape. 16:9 video walls looked 'square' (pun intended) against those who had put thought into how shape can make a bigger impact
With the exception of AOpen and Scala there was however a huge gap in the quality of stands between the big boys (NEC, Samsung, Christie etc) and the smaller vendors. This we think will actually be played out in the market as well during 2012
Harris Broadcast is a spent force. With their military divisions not making as much money as they hoped / expected these guys don't seem to have any money to spend in DOOH. Their stand lacked lustre and we cannot see them 'buying' any more business like DDN/7-Eleven (or even Harrods) in 2012
Where were the twitter walls? We counted two in all of the halls put together AND one of those was ours in the InAVate stand – the best though by far was Scala's Twitter Column
The DiSCO conference is dead and if the organisers cannot see that yet then they need to wake up and smell the coffee. If a so-called industry conference the day before a major event that itself garners 40,000 people cannot attract a hundred paying people (heaven knows how few of the 70 that attended on Monday actually paid) then there is something seriously wrong
NEC's VUKUNET has been re-launched. It got a hell of a lot of press. So much press in fact that we figured we couldn't do it any justice covering it ourselves. We will do, but we will let the dust settle first
Let's just finish up by saying that the bar has been set very high, both by ISE itself and by many of the corporate exhibitors. The corporates are starting to understand digital signage, digital signage and retail, the ad based market and corporate communications.
It's going to be difficult for many of those vendors in our #DSTop10 to differentiate themselves (BroadSign of course has DOOH Ad Networks, ComQi has mobile / social in the retail space etc) but in 2012 it will be interesting to see just how they go about marketing themselves.
With the big corporates really starting to get to grips with this space it's going to be an interesting year to say the least.