Gail Chiasson, North American Editor
ReflectSystems Inc. will begin deploying its ReflectView software suite for Newport News, Virginia-based Ferguson, largest wholesale distributor of plumbing supplies in the U.S. and the second largest company in the waterworks industry.
The ReflectView software suite will provide Ferguson control over the management, distribution and playback of high-definition media content of its digital signage. It will also support the integration and management of open standards for content and apps created in Flash and web technologies.
ReflectView will provide Ferguson with a platform to display up-to-date, dynamic messaging and videos that effectively communicate the latest trends, technologies and products. From plumbing products to lighting and home appliances, Ferguson customers – both trade professionals and private homeowners – should expect a style and service level consistent with Ferguson's history of providing world class service.
With its comprehensive in-store rich media solutions, (which include a partnership with Christie Digital for rollout implementation), Reflect ensures that Ferguson's on-premise displays are strategic, informative and visually compelling, resulting in maximum customer engagement.
Reflect will be working with Ferguson to help the company maximize sales, strengthen brand loyalty and provide a better overall experience for its customers, says Bill Warren, Reflect CEO.
"Ferguson's customers are constantly reacting to changes in style and technology, so dynamic digital signage is the perfect fit for a company like Ferguson that is dedicated to keeping its customers on the cutting edge," says Warren.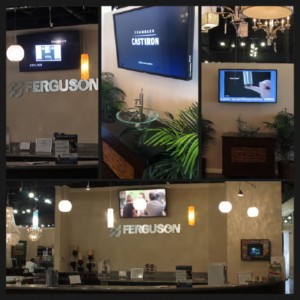 With ReflectView, Ferguson will also be able to provide real-time appointment messaging in showrooms for customers. Ferguson locations consist of the conventional contractor counter, showrooms or a combination of both, so the ReflectView system also allows Ferguson to target customers by location and sales channel within each location.
"Ferguson customers expect exceptional service, quality products and in-depth knowledge," says John Gillespie, director of marketing for Ferguson. "We expect the same from our partners, which is why we chose to work with Reflect, We looked at several other providers and were impressed by Reflect's successful track record for providing digital solutions to thousands of locations seamlessly. Its software provides us with the ability to customize digital messages and reach more locations with more options for content and control, so we can create dynamic customer experiences more easily and reliably."
Ferguson has sales of $8.8 billion and approximately 17,500 associates in 1,300 service centers located in all 50 states, the District of Columbia, Puerto Rico, Mexico and the Caribbean. Ferguson is part of Wolseley plc, the world's largest specialist trade distributor of plumbing and heating products to professional contractors
Founded in 2001, Reflect is a leading, national full-service provider of digital out-of-home merchandising and advertising solutions for digital signage, interactive applications and assisted shopping.