Adrian J Cotterill, Editor-in-Chief
NEC Display Solutions Europe is showcasing its recently re-announced VUKUNET ad serving platform during the #NECshowcase 2012 event at the O2 Arena in London today.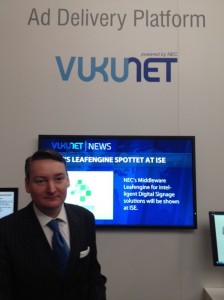 The first VUKUNET partnership in the UK is with Wonderworks Walkway Media Ltd – a deal that was first hinted at back in February in a sort of haphazard client-speaking-with-foot-in-mouth-without-permission-of-NEC sort of a way!
The contract will see Walkway Media supply a DOOH, signage, information and advertising network across a target of 30 mall locations in 2012 commencing with the recent installation at several independent sites, including the Criterion shopping malls at Slough, Dalston and Sutton.
Edward Simons, Executive Chairman of Wonderworks Walkway Media told us "By working with NEC Display Solutions, using the VUKUNET platform and the company's latest LCD screens, Walkway Media can deliver significant benefits to the Mall operators, delivering local advertising and community messages and updates."
He added "These first three installations are just the tip of the iceberg. We are aiming for a total of 30 Mall installations with NEC this year, which will deliver to Walkway the largest portfolio of new screen installs in the UK and the first major DOOH Mall installation program for several years."
VUKUNET is just be one part of the #NECShowcase, which is now in its fourth year after successive growth and increasing media attention. The event provides a unique platform focused upon solutions rather than technology to create a compelling medium for growth within the display industry.
Dirk Hülsermann, Manager of DOOH Solutions for NEC Display Solutions Europe who is probably the only person in our industry in Europe who gets more air miles than yours truly told us "Until now, there was no way for an advertising agency to communicate with all the different networks – because they speak different electronic languages and also because the market is too fragmented. For the first time, VUKUNET brings together advertising agencies and digital-out-of-home media owners in one single cloud-based solution. Media owners can aggregate their networks into a nationwide buy with VUKUNET."
"This is a revolution, as it brings sellers and buyers of DOOH media together. With automated processes to handle every aspect of the campaign on the fly as well as billing, VUKUNET can smooth the entire process and reduce the amount of manual labour required."
Time will tell.