Adrian J Cotterill, Editor-in-Chief
ZetaDisplay and Fujitsu are to jointly offer total Digital Signage solutions for the global retail market we are told.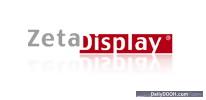 "Co-operation with Fujitsu is strategically important for us", says Leif Liljebrunn, ZetaDisplay Group Manager.
"Our ambition is to lead the way in the development of Digital Signage internationally, and set a standard for this branch outside the Nordic countries too. Working together with Fujitsu will enable us to improve our service to both existing and new clients in the global market. "
What Fujitsu globally REALLY make of all this is anyone's guess? Fujitsu acquired the global rights for TELentice back in February 2010.
The press release goes on to say that "This joint approach between ZetaDisplay and Fujitsu is the result of the demand by major clients for a total partner in respect of retail solutions that are to be applied globally" – whilst we think that TELentice has had its day, Fujitsu has had a digital signage software solution in its tool bag since 1998!
Lennart Mobäck, responsible for sales at Fujitsu was quoted as saying "ZetaDisplay shows wide competence within both technology and behavioural science, along with extensive knowledge concerning shop design. This co-operation is fundamental to continuing to increase our presence both in the Nordic countries and in other markets."
The partnership between ZetaDisplay and Fujitsu comes into force immediately BUT it's surely just another example of a display manufacturer not knowing what it's doing.