Gail Chiasson, North American Editor
The Outdoor Advertising Association of America last night presented CBS Outdoor, Inwindow Outdoor, Vitro and OAG with a Gold OBIE Award for their collaboration on an interactive out-of-home ad for ASICS during the New York City Marathon.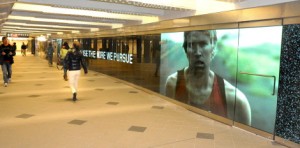 The award was one of 12 Gold OBIE Awards in multiple categories recognizing outstanding creative across a variety of platforms and formats. The OBIE Awards recognize outstanding out-of-home advertising campaigns.
Winners were honored at the 70th Annual OBIE Awards, held at the closing of the 2012 TAB/OAAA Out of Home Media Conference & Marketing Expo in Miami Beach.
In concert with its sponsorship of the 2011 ING New York City Marathon, ASICS transformed a long corridor in the Columbus Circle subway station into an interactive video screen. The execution allowed passersby to physically attempt to match the speed of Olympic marathoner Ryan Hall.
Stephen Freitas, OAAA chief marketing officer, commented, "This innovative digital execution encompassed all that effective, creative out-of- home advertising should, while also providing passersby with an entertaining interactive experience."
OAAA presented GSD&M with the agency's first OBIE Best of Show Award for its L.L.Bean Grand Openings campaign. The same campaign took a Gold Obie in the Consumer Goods & Services –
Street Furniture/Transit/Alternative Campaign category.
OAAA also awarded 27 Silver OBIEs and 37 Finalist prizes. Four agencies received both Gold and Silver OBIEs. Leo Burnett took home the most awards with six OBIEs going to its Chicago office and three to the agency's office in Toronto.
Legendary brand Maker's Mark won the 2012 OBIE Hall of Fame Award, recognizing the brand's consistent excellence in out-of-home advertising design. Doe-Anderson has served as Maker's Mark's creative agency for more than 40 years.