Gail Chiasson, North American Editor
The newest study by Millennial Media, commissioned with mobile measurement firm, comScore, and with additional information from Millennial Media's global platform observations across thousands of mobile ad campaigns, focuses specifically on the financial sector.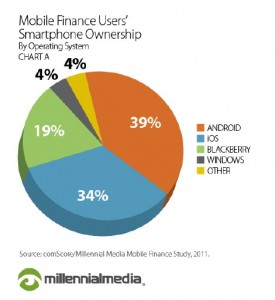 Reaching over 300 million unique global mobile users across thousands of device types and all major operating systems each month, the data from Millennial Media's platform is highly indicative of what is happening in the mobile marketplace as a whole.
The study surveyed consumers with several key
objectives in mind:
Explore the mobile finance industry and understand its growth and dynamics;
Delve into the demographics and behavior of mobile finance consumers;
Understand how consumers use mobile devices for their finance needs.
The mobile finance audience – made up of consumers who engage with finance content and ads on their mobile devices – is a group that has embraced next generation mobile devices, particularly Smartphones and tablets. According to comScore, 80% of mobile finance users now own a Smartphone – an increase of 55% year-over-year. This widespread adoption of Smartphones has changed how consumers engage with finance brands. Among this group of Smartphone owners, content is accessed across a variety of mobile devices and operating systems, led by devices using Android, iOS, and BlackBerry.
Consumers accessing financial content on their mobile devices tend to be young males between the ages of 18 and 34. In fact, the breakdown of users in this age group is almost double the overall mobile average. Further, mobile finance users are generally in a higher annual income bracket than the overall mobile audience, and consumers over-index in the $75,000+ and $100,000+ brackets.
Mobile finance users consider themselves environmentally-friendly, health-conscious, and influential. They are 59% more likely to consider themselves a tech geek than the overall mobile audience, 50% more likely to see themselves as fashion-conscious, and 37% more likely to identify themselves as risk takers – with 48% of mobile finance users identifying themselves as such, as opposed to only 35% of the total mobile audience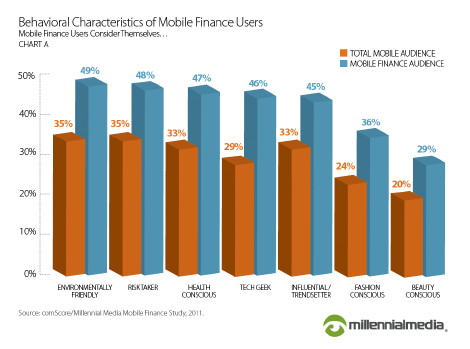 Here are some of the main points in the study:
Finance was the number one global vertical on the Millennial Media platform in 2011. From 2010 to 2011, Finance grew over 300%.
Finance has numerous sub-categories, and the largest is insurance, with a 42% share of the total spend. Banking was second, and financial services and credit cards were 3rd and 4th.
Mobile banking was the finance sub-category accessed most frequently by consumers. 35% accessed banking content once a week, and 22% accessed it almost every day.
Lead Generation/Registration was by far the most popular campaign goal for finance advertisers, making up 70% of all campaigns.
Sustained In-Market Presence was the second-most popular campaign goal, as finance brands used mobile to build long-term relationships with consumers.
Finance advertisers allowed consumers to place a call or enroll/join/subscribe at a higher rate than the mobile average – actions which directly supported lead gen-focused campaigns.
Almost 50% of mobile finance users claim they will stick with a brand they like. Mobile finance users are also 95% more likely to be influenced by a celebrity endorsement than the overall mobile audience.
Therefore, it appears that there is a clear opportunity for finance advertisers to gain long-term benefits from ongoing awareness
and brand-building mobile campaigns
The study indicates that, given the high number of mobile finance users who own a tablet, it is incredibly important for finance brands to not only have a solid mobile site, but also have a suite of branded apps across a variety of operating systems and a firm mobile advertising strategy to drive traffic to – and continuous utility from – those apps.

The study also indicated that unless ads are designed to drive app downloads on a specific operating system, focusing on one OS or device type can put unnecessary limits on an advertiser's ability to reach every available member of their target audience. Opening targeting parameters for a campaign or running multiple campaigns to reach mobile users on different operating systems can help ensure optimal reach.
Further, mobile finance users consume a great deal of finance-related content – financial news, brokerage account information, banking details, and more – on their mobile devices. However, they are also individuals who consume a wide array of digital content – not just the content on endemic finance apps and sites. As finance brands develop marketing strategies to reach their target audiences, it is important to keep this fact in mind.
Across the finance sector, banks, financial services firms, brokerages, investment banks, insurance companies, lenders, and more have been committed to mobile advertising.