Gail Chiasson, North American Editor
At #ScreenmediaExpo last week we had to go back to the eyevis display no less than three times to finally meet up with Peter Mytton-Bayley, southern regional sales and services at Eyevis UK.
"It's been absolutely manic here," said Mytton-Bayley – which reminded us of how busy the eyevis stand was when the Germany-based company introduced its multi-sided tiles at #InfoComm11 in Orlando last year and shown again at #ISE2012 in February.
The company has partnered with PSCo in the U.K. as its sole distributor.
"We've been used by RTL in The Netherlands, and by a TV station in Germany, and have two installations for a communications company here in the UK," said Mytton-Bayley. "And we now have a U.S. office."
omniSHAPES (as shown below) looked really good…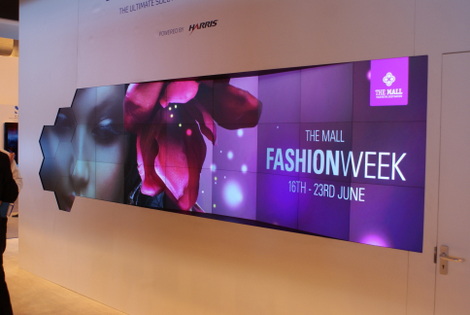 Seems like the company is growing just the way we expected it would!
Top photo by Maddie Cotterill, bottom photo by Andrew Neale.