Gail Chiasson, North American Editor
Nashville, Tennessee-based Griffin Technology, creators of innovations for everyday life, has opened its first Griffin retail store in London, at Westfield, Stratford City, directly across from Olympic Stadium.
The company, celebrating its 20th anniversary, wants to commemorate this achievement and to showcase its products to the large global audience expected to attend the 2012 International Olympic Games in London.
"The opening of our very first store celebrates a huge milestone for Griffin Technology," says Mark Rowan, Griffin president. "We have been leading the way in developing innovative and groundbreaking accessories for the past 20 years. This store will allow us to share our vision and our products with consumers firsthand. And, with the spotlight very much focused on London and the 2012 Olympics, there's no better place to unveil our very first store."
This interactive store, a first of its kind for Griffin, allows consumers to immerse themselves in the Griffin brand and experience its products firsthand. The space is an exclusive product arena showcasing the very latest of Griffin's innovations. Visitors to Westfield can test, play and try out Griffin's products in the environment for which they are designed.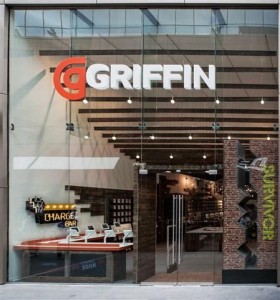 The double fronted store totals 1,500 square feet and features an impressive 30-foot glass storefront. To the left of the entrance a Charge Bar offers visitors the opportunity to charge their mobile devices in-store.
There is also an interactive play area for Griffin's HELO TC range of AppPowered remote controlled helicopters, and a test center for putting Survivor, Griffin's most heavy duty cases, to the test.
The space will play host to all of Griffin's key products, showcasing its leading range of in-car accessories and its extensive collection of cases for iPhone and iPad; a kids' area for Griffin's range of tech for children and popular Crayola-branded products; and Griffin's third-party collaborations with Threadless, the crowd-sourcing community of artists, and Sandy Chilewich, the New York-based textile designer.
The store is designed to utilize Griffin's Business Solutions range to the fullest extent. All the interactive displays used in-store are iPad tablets mounted in Griffin's Kiosk, providing protection and security to the tablet while maintaining access to the iPad tablet's Multi-Touch display. And Griffin is using its MultiDock charging stations to charge the many iOS devices used for demonstration and display on the retail floor.
Griffin is one of the world's largest and most successful providers of personal computing and digital media accessories. Griffin's rich heritage of innovations spans across its iTrip family of FM transmitters, groundbreaking AppPowered Accessories line, as well as affordable, everyday solutions for consumers and businesses looking to charge and protect their smartphone and tablet devices.