Adrian J Cotterill, Editor-in-Chief
Did u know that Exponation's Digital Signage Expo actually started life as Digital Retail Expo?
Back in early 2004 at GlobalShop Exponation co-founder Angelo Varrone came across the beginnings of the digital signage industry in a pavilion that GlobalShop labeled 'The Digital Store' (if anyone has any pictures from that event we'd be very interested in seeing them).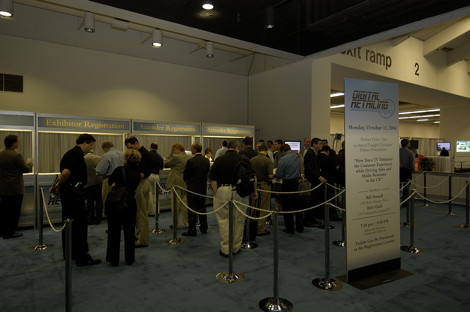 As a result of that chance encounter, fellow Exponation co-founder Chris Gibbs was given the task of launching Digital Retailing Expo – which launched a short time later in San Francisco in October 2004 (see pictures above and below).
In San Francisco for that first event were 40 exhibitors and approximately 1,000 attendees.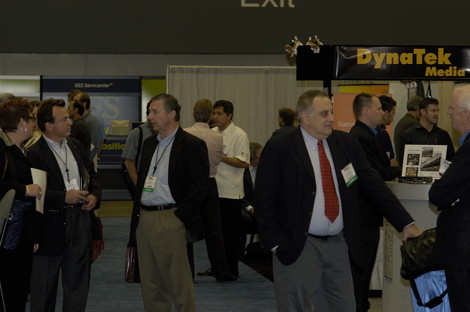 However, even before that chance encounter at Globalshop in 2004, Brad Gleeson (with his then business Activelight) had, since 1999 organised and sponsored the first ever digital signage industry tradeshow pavilion at the National Systems Contractors Association (NSCA), a not-for-profit association representing the commercial electronic systems industry – the initial 50×50' booth featured companies like Pioneer, Fujitsu, Scala, Fred Systems and Mercury Online Solutions!
The NSCA Digital Signage pavilion would grow to over 10,000 square feet and 20 plus exhibitors in 2002 before being transitioned to Exponation to support the launch of the first Digital Retailing Expo in 2004.
In May 2005 Digital Retailing Expo moved to Chicago and stayed there during 2006 and 2007.
In the summer of 2007 Digital Retailing Expo was renamed Digital Signage Expo along with plans to move the show to an earlier time slot in Las Vegas.
In 2008 Digital Signage Expo opened its doors in Las Vegas for the first time and the rest they say is 'history' – it's currently the largest conference and trade show exclusively dedicated to digital signage, interactive technology and digital out-of-home networks.
#dse2016 welcomed 4,116 verified attendees (verified attendee stats do not include exhibitor personnel). Total attendance (including exhibitors) was 5,665. A full 45 percent of that verified attendance was end users, an increase of 7 percent in DSE's primary target audience compared to the previous year.
In 2016, 243 exhibiting companies joined the show, 45 were exhibiting for the first time and the show floor expanded to 84,430 net square feet – a new record for DSE.