Adrian J Cotterill, Editor-in-Chief
Australia's largest brand and carrier, Telstra, launched a number of retail and outdoor innovations this week, using Near Field Communications (NFC) innovator from Tapit.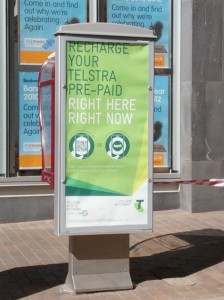 Telstra customers can now tap their phone on the Tapit symbol when they're out and about to instantly recharge their Pre-Paid, get the Foxtel app and a free trial or get a free trial of the new MOG streaming music service (even non-Telstra customers can tap and get a free trial of MOG we believe).
With one tap, customers are instantly taken to the relevant page on their mobile screen.
Jamie Conyngham CEO of Tapit told us "Telstra is innovative, they are the first major brand in Australia to launch such a comprehensive NFC initiative in retail and outdoor simultaneously. It's all about making it easier for people to get the content or service they want instantly on their mobile phone. Reducing the amount of clicks or keystrokes simplifies the process and has a positive impact on sales and customer loyalty."
Initially the NFC-enabled Telstra retailers include the two Sydney & Melbourne flagship stores as well as Macquarie Centre (SYD), Chatswood (SYD), Chadstone (MEL) and Doncaster (MEL). Staff at these Telstra stores have Tapit enabled Lanyards and there are various Tapit enabled Point of Sale materials throughout the stores. Tapit window decals also appear in selected stores.
In October, Warringah Mall & Macquarie shopping centres will see additional Telstra and Tapit activity, with food court tables and various window decals being NFC enabled by Tapit.
Telstra, Tapit and JCDecaux have also enabled around 20 phone box advertisements across Sydney and Melbourne, so Pre-Paid customers can easily recharge with one tap on the Tapit symbol.
Jamie Conyngham added "It's an exciting time. We're only just scratching the surface of what rewards NFC will deliver brands and consumers".