Adrian J Cotterill, Editor-in-Chief
We hinted at this tie up a week or so ago and believe finally that an announcement is due officially on Monday (it had to be soon to get it out in time for ISE, Amsterdam)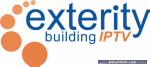 Exterity of course are a specialist in network IPTV and will be announcing that via its 'IPTV Ready Program' they have been carrying out testing with a number of digital signage and video equipment companies.
One of these is likely to be signagelive.
About Exterity

Exterity Limited was formed in 2001 to create products that deliver broadcast quality digital video over IP networks within buildings. Exterity can turn any IP network into a complete IPTV solution. Its products represent a significant advance over co-axial cable systems and are viable for deployment as both small and large-scale TV and video distribution systems.

Exterity is based in Edinburgh, Scotland.