Adrian J Cotterill, Editor-in-Chief
It (probably) only works if you write the date proper like we do in Europe, i.e. Little-endian (day, month, year), but Thursday evening saw Ocean Outdoor and Raymond Weil keeping watch on 20:12 20 12 2012 (it's a very clever 'creative', see below)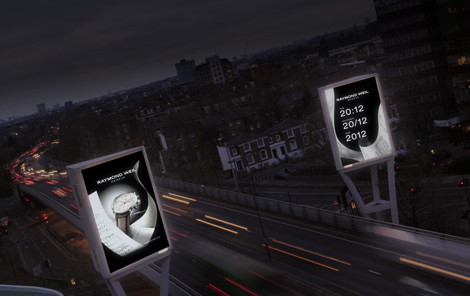 Luxury Swiss watchmaker Raymond Weil captured a milestone moment in time by marking 20:12 20 12 2012 on two of Ocean Outdoor's iconic London locations.
A seasonal message appeared on the Two Towers East and Two Towers West at precisely 12 minutes past eight on Thursday evening, December 20 2012.
Ocean CEO Tim Bleakley told us "There will only ever be one 20:12 20 12 2012 and it seemed like too good a moment in time, in what has been a truly momentous year, not to capture"
Del Randhawa, Twenty20 media Vision said "This unique 60 second message highlights one of the most appealing capabilities of digital out of home and the symbolic Two Towers sites are perfectly placed to allow 2020MV and Raymond Weil to commemorate this once in a life moment in time".
Raymond Weil is a brand aligned with novel concepts, blending avante-garde technology with inspirational design throughout its gents and ladies watch collections.
This would also have worked of course at 12:12 12/12/12 (which has already gone)!