Adrian J Cotterill, Editor-in-Chief
So news is just in that #ScreenmediaExpo is no more. To be honest it is not totally unexpected. We had heard of plenty of exhibitors in 2012 who were unhappy with the ever decreasing size of the event and had not renewed and booked stand space for the event that should have taken place in May this year.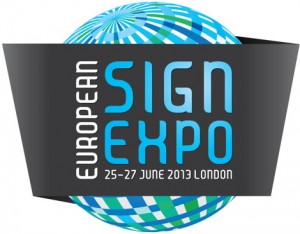 Last year we took two stands; The DailyDOOH Blogger Lounge and the OpenSplash stand and were in two minds ourselves whether we would want to do that again.
For those digital signage people here in Amsterdam at #ISE2013 it's an interesting reflection point that ten years ago, Mike Blackman started up ISE (then in Geneva) with a crowd similar in size to what Screenmedia Expo has always been – approx 3,000.
Mike has built that show up to what it is today, an event with 40,000+ attendees (and we are all expecting record attendance numbers to be announced once again later this afternoon).
News of Screenmedia Expo's demise came from FESPA (a global federation of 37 member associations for the screen printing, digital printing and textile printing community)…
Screenmedia Expo 2013 will no longer take place as a standalone event at Earls Court in May 2013
Screenmedia Expo 2013 has been acquired by European Sign Expo (ExCeL London, 25-27 June 2013), and will now be wholly integrated within the June event
European Sign Expo is described as a new, dedicated event for marketers, advertisers, brand owners, buyers and specifiers of advertising and signage, and signmakers
The three-day European Sign Expo is co-located with FESPA 2013, an event for printed signage and graphics (ExCeL London, 25-29 June 2013), giving visitors to either FESPA 2013 or European Sign Expo automatic access to the neighbouring event free of charge.
Neil Felton, FESPA Managing Director was quoted as saying "Acquiring Screenmedia Expo is a step forward for European Sign Expo … the event will also be important to members of FESPA's global print service provider community, a third of whom are interested in the digital signage sector, enabling them to see and experience innovation and best practice in digital out-of-home. This technology is increasingly complementary to printed graphics, and the two are being widely integrated in markets across the world to execute effective and impactful marketing campaigns."
We are told that the established Screenmedia Expo team will remain responsible for sales and exhibitor liaison for Screenmedia Expo exhibitors, reporting to the board of European Sign Expo.