Gail Chiasson, North American Editor
When I heard a little about Mariusz Orzechowski's upcoming presentation at the Digital Signage Expo educational day – Feb. 26 – during the Digital Signage 360: A Global Perspective half-day presentation, I was quite fascinated, and I expect that anyone attending #dse2013 will be.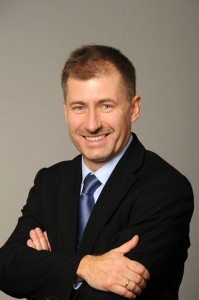 This is the second year for this Global Perspective session – with almost all different speakers from last year's presentation – and if they can improve on last year, you can bet your bottom dollar that it will be a highlight of your visit, because last year's was superb and this year's promises to be as good or better.
Like last year, DSE and DailyDOOH have joined together to produce this one session at #dse2013 that gives a perspective on what is happening in Digital Out-of-Home in other parts of the world.
Orzechowski is president of the Polish Digital Signage Association, as well as director of sales and marketing CEE, NEC Display Solutions Europe, and he'll be talking, among other things, about what's happening in the countries of the 'white bears' – and we don't mean the polar bears that first come to mind for North Americans.
He'll be looking at whether Digital Signage is just starting out or whether it's well developed is these various countries; whether it's safe or risky if you are thinking of doing business that region; and what the main opportunities are for the digital signage market in Central and Eastern Europe.
If you are considering business opportunities in the CEE, Orzechowski will help you sort out myth from reality, examining how the economy and business really is today. He'll give a real picture of the business and investor climate, and he'll be able to contrast the CEE versus the Western Europe business model.
Attendees will learn whether Digital Signage is just starting or well developed. They'll get data as to the market size and who the main players are, along with examples of some of the most interesting digital signage projects in the region.
And there will even be some solid advice for potential investors, along with some potential business links with CEE companies.
This 360 session is definitely one not to be missed. Prospective attendees can register here