I've been asked to speak at the Thought Leadership Summit being held on Thursday 16th May (the summit will run 10:00 – 12:00 and then 14:00 – 16:00) in conjunction with the 5th NEC Solutions Showcase being held at the iconic Tobacco Dock in East London.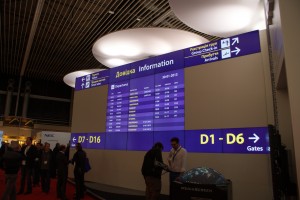 This summit is sub-titled Video Walls Unplugged and the topic of my presentation to fit in with this is entitled 'Content, Shape and Gigapixel Challenges'.
Amigo have literally thrown millions and millions of pixels at screens over the past few years and we know from experience that there are always technical challenges in doing so. I will talk about the inherent issues in putting large numbers of pixels on screens from a content perspective and also discuss shape – explaining how I think the industry could be freed from the constraints of having to solely build content for traditional 16:9 aspect displays.
I will also reveal some of the secrets behind a couple of the innovative projects that we have been involved with these last 18 months; including the London Stock Exchange, Die Pixel-Maschine (where we acted as lead content developer) and a number of high profile corporate reception area installs.
You can register for the Thought Leadership Summit here.