Adrian J Cotterill, Editor-in-Chief
At the start of the weekend we had just four tickets left for our first Thought Leadership Summit of the year, which takes place Thursday 16th May in London during the #NECshowcase being held at the iconic Tobacco Dock in East London BUT we are now SOLD OUT.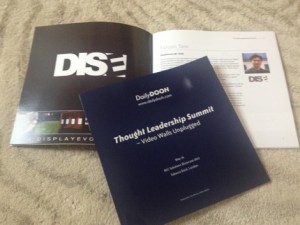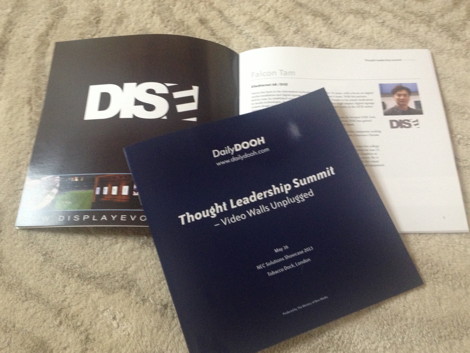 That doesn't mean you shouldn't register though as we have a wait list and we will work to free up some tickets over the next few days.
The summit will run 10:00 – 12:00 and then 14:00 – 16:00.
Here's the morning agenda in full…
Open Source Digital Signage
In 2011 Ayuda Media Systems donated its Splash digital signage player to the industry as an open source initiative. I will discuss some of the innovation that has come about as a result of having available a free, open source media player in the digital signage industry and look at what could be the focus going forward when innovating next generation signage opportunities.

– Andreas Soupliotis, CEO and Founder, Ayuda Media Systems

One CPU Per Screen
Why should you just use one CPU per screen? I will demonstrate how to make an unlimited number of CPU's work together to create a huge canvas. I will take the audience through some of the details of the work done in collaboration with NEC Japan for a number of high profile video walls in Tokyo.

– Falcon Tam, Klocktornet AB /DISE

The Issy-Neale Formula
The Issy-Neale Formula is a platform independent, human readable and machine readable method to describe a video screen display made up of tiled units. I will explain how it bridges the gap between content creators and programmers and provides a common method to describe a shape for a wide range of different technologies.

– Andrew Neale, Technical Director IGCH Ltd, co-founder of Kaleidovision Ltd, and President of the OpenSplash Association.

Global Video Wall Market
The introduction of super narrow bezel LCD displays caused a major shift in the video wall landscape, with traditional projection based technologies coming under increasing pressure and new verticals/applications opening up for flat panel vendors. The super narrow bezel LCD market has proven lucrative for flat panel vendors, but will innovation in the projection space stem growth? What are the geographies and verticals for growth, and what size will the market reach?

– Mike Fisher, Market Analyst, Futuresource Consulting

VUKUNET Labs, Mapping London's Billboards
In 2012 NEC Display Solutions quietly set up VUKUNET Labs and quietly started funding a number of small projects aimed at encouraging innovation in digital signage and digital out of home. I will show you how one project mapped London's Billboards in less than a day, how another highlighted which billboards would be visible by the crowds lining the streets during the 2012 Summer Olympics torch relay through London and how you too can easily develop your own lab project and help the industry innovate.

– Dirk Huelsermann, VUKUNET DOOH Solutions Manager, NEC Display Solutions Europe
Here's the afternoon agenda in full…
Billboard And Video Wall Audience Measurement
Whilst audience measurement provides accountability and performance tools, there's a growing interest in using the metrics to trigger events in real-time. I will provide some examples of innovation in this area, specifically in the large format DOOH sector. For example, Ocean Outdoor is helping to pioneer digital out of home in retail and roadside environments, and via its Ocean Labs initiative has developed and launched a suite of new and emerging technologies. I will discuss 'Look Out', which is based on Quividi's VidiReports and is used to analyse viewer demographics and to trigger the display of content relevant to that audience.

– Adrian Exton, Director, BlueSight Systems Ltd

MegaPixels are Boring. Let's Talk About GigaPixels
Displays of many megapixels are easily created today and even a gigapixel (one thousand megapixels) is on the edge of do'able now. Soon, a gigapixel will become mainstream so in this session we look at why it is not necessarily the display technology that will hold the industry back.

– Bob Rushby, founder and President of Pixelized Light Inc.

Content, Shape And Gigapixel Challenges
Amigo have literally thrown millions and millions of pixels at screens over the past few years and we know from experience that there are always technical challenges in doing so. I will talk about the need for a definitive content strategy, discuss videowall shape and examine the inherent issues in putting large numbers of pixels on screens from a content perspective – explaining how I think the industry could be freed from the constraints of having to solely build content for traditional 16:9 aspect displays.

– Alex Hughes, Amigo co-founder

Monster Walls And Mobiles
Does the airport traveller really need a platform which engages and entertains? And if they do, is it best by phone or touch? We've created a number of interactive media walls employing various forms of interaction – in one example, passengers are challenged to compete against the clock in order to correctly match destination based icons and score points. I will explain how we see this benefiting both the brand and the consumer and how to put one together yourself.

– Matthew Wilkinson, Head of Mobile, Eye

Interaction. Am I Talking To A Wall?
Wonderworks Media uses a number of different sized video walls as part of its media network in the UK. I will demonstrate how we help mall owners and retailers capture people's attention and the best ways we have found to engage, using among other things, mobile phone interaction and giant calls to action.

– Anders Hall, Wonderworks Media

Waterloo Sunset, Sunrise and A New Dawn in Display Quality
This year, JCDecaux will launch Waterloo Motion, Europe's largest indoor LED screen which will engage an audience of 92m people per year in one of the UK's busiest rail hubs. I look forward to sharing a strategic and technical insight into how the JCDecaux team continue to lead the UK out-of-home market with screen display quality, innovation and scale.

– Tim Harvey, Director of Digital Strategy, JCDecaux UK
You can follow our speakers on twitter; @andsoup @AyudaSystems, @OpenSplash, @DISE_Signage @dhuelsermann @VUKUNET @Quividi @bobrushby, @amigodigital @Tim_Harvey @JCDecaux_UK
Our next Thought Leadership Summit after this one is 'Billboards Unplugged' and will take place Monday 21 October 2013 in NYC, kicking off #DpbMedia Week.