Adrian J Cotterill, Editor-in-Chief
We had a sneak preview of an uncut first version of one of these in Amsterdam AND if that one was anything to go by then they (a series of 5 leading up to Screen Media Expo Europe) are going to be, again, a lot of fun whilst at the same time pointing out some of the obvious advantages of digital.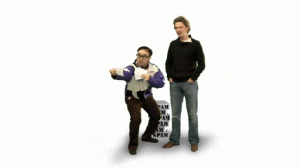 When we first publicised these in April 2008 we probably had 1,000 subscribers and now that we (drum roll) flicked over to 3,000 this week, there may be many of you who have not seen them.
If you want to remind yourselves of what they look like or if you want to look at them for the very first time click here.
The back story to the 4 Webisodes published in 2008 can be found below, in many cases, complete with scripts: –