Adrian J Cotterill, Editor-in-Chief
Measuring more than 30 metres long and almost seven metres high, a new Liverpool Media Wall, which dominates the main entrance to Liverpool Lime Street Station, was unveiled by premium outdoor media owner Ocean Outdoor on April 2.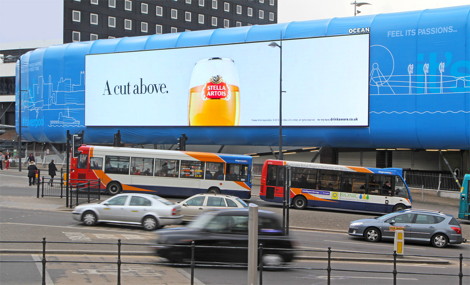 Europe's biggest digital screen was originally installed five years ago as a façade along the Lime Street entrance of the St Johns Shopping Centre. Since then, the Liverpool Media Wall has played an integral role in communicating and marking some of the City's milestone moments and anniversaries.
Ocean Outdoor chief executive Tim Bleakley told us "The Liverpool Media Wall is digital outdoor advertising at its best. A great space, commanding high volume audiences, powered by great technology; a quality environment for advertisers; a great visual experience for audiences; and a great community asset for the people of Liverpool whenever they need it".
The upgrade improves screen resolution, which is controlled according to the time of the day, leading to improved colour contrast and 35 per cent lower power consumption.
The wall is 30.72m wide x 6.72m high, the new LED is supplied by Daktronics, and sees an increase of 28% in resolution from 1536 x 336 to 1992 x 432. It's 20mm pixel pitch to 15HD with thinner and lighter modules (272.5mm), lower power consumption by up to 35%, improved colour contrast. Rear access via a new gantry system means easy access for maintenance and repairs and Ocean's proprietary brightness control deployed from sunrise to sunset each day.