Adrian J Cotterill, Editor-in-Chief
Our last job of the week was to pop into ONELAN's offices (actually, just several hundred yards from where we are in Henley-on-Thames) to pick up 100+ USB sticks that they have kindly donated for our Thought Leadership Summit next Thursday at the #NECshowcase.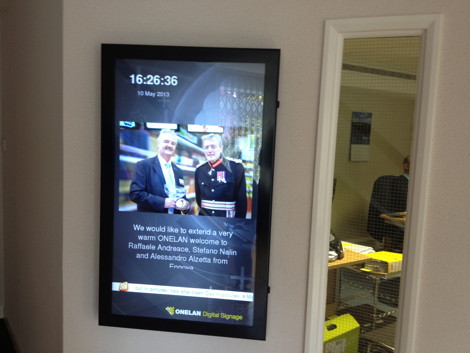 Nice to see ONELAN founder David Dalzell feature prominently on their video poster in the reception area (shown above, on the left).
They've given us some super smart, 4GB (yes 'four' GB) USB drives so there's plenty of room to get all of next week's speakers' presentations safely on.
If you attend Video Walls Unplugged you can pick up a USB drive at the door, also look out for a folder 'ONELAN Video Wall Solutions' on the USB drive (from of course, the USB stick's sponsor and it's well worth a read, especially the Quividi case study).