A relatively new outdoor billboard company Third Rock Digital has selected the Ayuda Platform to power all of its outdoor LED billboards, beginning in Baton Rouge, LA.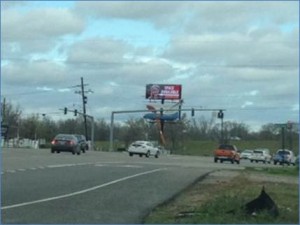 Kirk McNabb, owner of Incite LED Media Group and co-developer/operator for Third Rock Digital sites, told us "Our operating group is very pleased with the robust and feature rich software that is being offered by Ayuda. After our initial test launch a few weeks ago, we became quickly convinced that Ayuda has one of the best platforms available for LED board programming, back-end management, and POP. We intend to use Ayuda on all future launches".
The Ayuda Platform, makers of the Splash CMS that is being used in conjunction with the OpenSplash player at each billboard site, seamlessly integrates the digital content management with all other back-office and client facing elements of the media sales workflow. This means that in addition to powering the digital billboards today, operators like Third Rock can also use the same single platform to check avails, create proposals, generate POP, invoice campaigns, and automatically calculate and distribute any shared ad revenue lease payments.
"We lit up our first Ayuda powered billboard in Baton Rouge on February 13, 2013, and are already planning to go live on another two sites in Baton Rouge" McNabb continued.
"Third Rock digital combined forces with multiple outdoor vendors in a variety of ways, from operating to sales relationships. What I love about the Ayuda platform is that the cloud based infrastructure, along with Ayuda's working relationships with the main outdoor hardware manufacturers, means that Splash just works regardless of what hardware is deployed at each site. What's more, I know that as I grow my business, I will eventually be able to offer all sales personnel the Ayuda Platform to check avails and create proposals that will easily and automatically transmit campaign information to the appropriate board. I could use the Ayuda platform for billing and payouts if need be. There is just no other company out there in this space that can give me all of this in one seamless package, with the kind of user experience that Ayuda offers".
Third Rock Digital is majority owned by Chinese LED equipment manufacturer Quality Systems Technology (QSTLED). Third Rock has partnered with Sky Outdoor and Incite LED Media Group, (Sky/ Incite) to develop and operate LED billboard networks. The group has also partnered with a local Baton Rouge operator Triangle Ventures to handle local sales.