The Rathaus Galerie, located in the heart of Essen's city centre, is home to 60 shops and a wide range of food outlets and restaurants. A total of four Mitsubishi Electric LED screens have now been installed.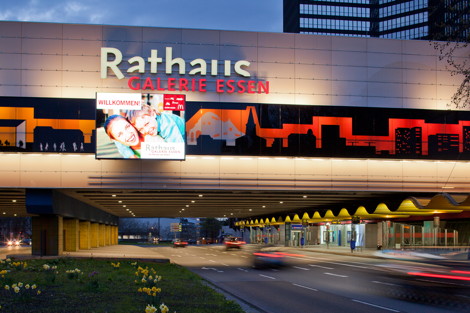 Covering 10.65 sq m each, two LED screens are placed in an eye-catching position in the ground floor retail area of the Rathaus Galerie, greeting visitors as they enter.
Each screen consists of four AVL-ODT10 LED modules, measuring 4.16 m wide and 2.56 m high. A 416 x 256 pixel resolution doesn't sound particularly high, but we are told that at 10mm pitch it delivers sharp images even when viewed close up (well, relatively close up of course).
In addition to life-like colour reproduction and uniformity, they deliver good contrast performance thanks to the patented pixel and surface design. "Even when strong sunlight streams through the glass roof, brightness is extremely good," commented Sven Farrenberg, CEO at Locator GmbH and responsible for marketing digital advertising space. "That is a very high standard, which has been rarely achieved by displays used in Germany up to now."
Two further LED screens are installed outside, each of 19.7 sq m (5.12 m wide x 3.84 high). The 10mm AVL-ODQ10 screens deliver a resolution of 512 x 384 pixels and a 5000 cd/m light output, making them clearly visible to passing motorists approaching from the north and south using the four-lane Schützenbahn that passes beneath Rathaus Galerie.
Mitsubishi Electric, we believe, are currently in the process of building a fast-growing network of large LED screens in main cities throughout Germany, having successfully installed similar systems in Cologne and Hamburg.