Google ran an event earlier this week at Kings Place in London which was attended by 300 people from the advertising and media Industry.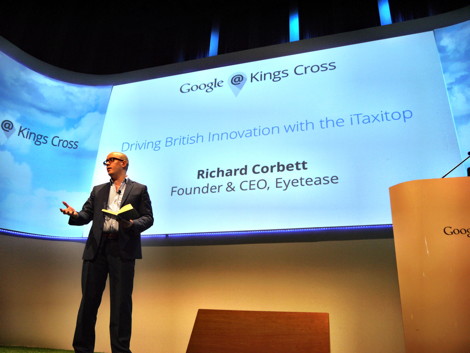 Aside from two companies; Eyetease (the iTaxiTop people) and WalkBase (described as 'next generation retail analytics'), the presentations were all conducted by senior people from Google.
The focus was very much Mobile and Online but we did enjoy the iTaxitop presentation.
Eyetease CEO, Richard Corbett did his part to wave the flag for the DOOH industry and here's some of what he spoke about…
With the most important screen in the life of a consumer being in their pocket, he mentioned the importance of OOH understanding its place in the overall media landscape and ways to exploit this and work with online/mobile
He discussed the importance / power of convergence between OOH and online/mobile with OOH acting as a 'prompt' to navigate users into a more engaged online/mobile brand experience
He mentioned how brands are accustomed to the benefits of online/mobile and demand the same from OOH – relevance, immediacy, accountability, tracking, targeting, etc.
He talked about DOOH and innovations in DOOH raising the bar and giving brands these 'online' benefits in an offline environment
And of course, Richard would have been remiss if he hadn't talked about his own product, the iTaxitop, and he stressed the potential ability to access "every street in every city" with the marrying of movement on taxis with digital signage, GPS and wireless connectivity.