APN Outdoor and Sydney's first-ever large format, roadside Digital Billboard in the Central Business District (CBD) has gone live…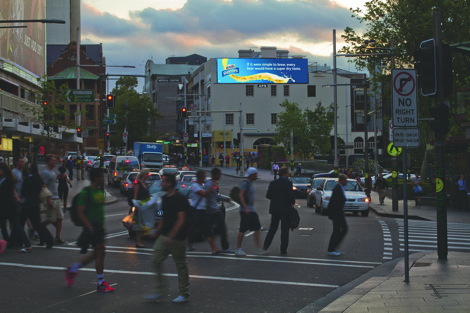 Sitting prominently in the iconic Kings Cross precinct at the Darlinghurst intersection on William St, the Digital Billboard will be seen by over 2.8 million people each month.
APN Outdoor's General Manager of Digital Media, Damien Rath, explains the significance of this development, he said "Approval of the Kings Cross Digital Billboard represents a great milestone for our valued clients as well as demonstrating our continued leadership and innovation of Digital across Australia by delivering this first to market for Sydney."
In keeping with current Roads and Maritime Services' policy, the Digital Billboard will rotate through advertisements every 45 seconds. A feature of APN Outdoor's Digital policy with the new Digital Billboard will also include a component of community messaging for the Sydney City Council, promoting festivals, events and news updates for the benefit of local residents of Kings Cross and Darlinghurst.
APN Outdoor worked with architect firm Kann Finch on the site's design to achieve the highest level of architectural innovation for the Billboard. The installation of the roadside Digital Billboard is a 10mm screen from Daktronics that will use Scala content management software.