Gail Chiasson, North American Editor
Four Winds Interactive, Denver-based provider of digital communications solutions, has launched its iDS Kiosk product, now available for purchase in Apple's App Store.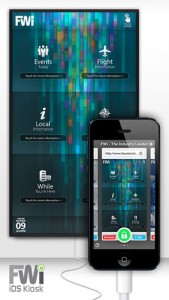 iDS Kiosk allows its users to employ their iOS devices as digital signs or interactive kiosks by keeping the devices on, locked and periodically refreshed.
"iDS Kiosk enables our customers to more easily leverage iOS mobile and tablet devices as an integral part of their visual communications strategy," says David Levin, president and CEO, Four Winds Interactive. "Combined with FWi's webPlayer, iDS Kiosk makes it easy to get any digital sign running on an iPad, iPod Touch or iPhone, or to use those devices to power large format displays."
After seeing an increase in companies looking to use iOS devices in their signage networks, FWi developed iDS Kiosk to seamlessly work with its existing software products like Content Manager and webPlayer.
"We're hearing from more and more customers that want to use iPads for their meeting room signs, menu boards, table game signs or interactive kiosks—or iPod Touches to power larger format signs," says Will Pennell, chief technology officer, Four Winds Interactive. "We developed iDS Kiosk to be a cost-effective and easy-to-use solution for those organizations."
Signs or URLs presented in iDS Kiosk will be displayed in full screen, without the navigation and status bars, while providing users the ability to control the lock screen and disable Sleep/Auto-Lock mode of all iOS devices using the same Apple ID. Full orientation support as well as orientation lock allow users to decide on the most effective position and enclosure for their iOS device. An access code is used to secure or unlock the iDS Kiosk application screen, facilitating easy device management and minimizing the risk of a third party bypassing the display functions.
Automatic cache refresh rates can be enabled (or disabled) for content updates and the refresh rate threshold can be adjusted after the iOS device is inactive for a specified time period. Each iOS device can store up to 10 URLs and iDS Kiosk also provides a preview (webview) or URL contents. Videos that are part of a sign channel can also be configured to play automatically.
To introduce iDS Kiosk, FWi is holding a webinar today from 1pm-to-2 pm EDT (10 am-to-11 am PDT) where members of FWi's development and solutions architecture team are demonstrating the functionality and potential use cases for the new product. Further information on the introduction is available here.
iDS Kiosk is available for just US$19.95 per device in Apple's App Store.