Adrian J Cotterill, Editor-in-Chief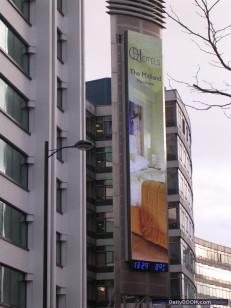 City Gateway Media (CGM) has been running some interesting campaigns on its giant LED screen in Manchester.
The first was for the Midland Hotel (shown above, from the 'still' you can just make out the hotel bedroom and their logo) and another was for Monarch Airlines.
The Midland Hotel was keen to raise its profile amongst Manchester's business audience – the CGM screen of course is in the heart of what is dubbed Manchester's "Downtown district" and Manchester's "Hotel district".
Within a 150 metre radius of the screen there are numerous hotels; Abode, Malmaison, City Inn, MacDonald, The Place (apartments/hotel) and the Midland.
The spot was 25 seconds in length and created by Amigo Digital.
Monarch Airlines initially took the screen on a two day trial period in September 2007 but were so impressed with the results they are currently running a new 20 second commercial at the moment until the end of this month.