D3 and Dynamic Digital Displays Europe, announced the completion this week of another roadside billboard for Signature Outdoor as part of Signature Outdoor's CityVision regional display network.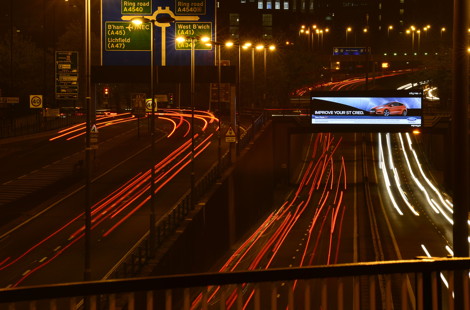 CityVision Expressway, which was unveiled on 20 May 2013, is a landscape 12m x 3m 10mm SMD LED display located above the Aston Expressway (A38M), the main arterial route into Birmingham City Centre.
This is the third display D3 have delivered for the CityVision network and largest to date; comprised of 333 individual 10mm SMD LED modules.
The display is positioned just one mile from the City Centre and faces oncoming traffic travelling towards both Bullring and Mailbox shopping centres as well as the CBD, the International Convention Centre and the National Indoor Arena. The fortnightly traffic count has been registered at over 1.2million.
The CityVision Expressway joins CityVision Bullring and CityVision Southside for the Birmingham-based media operator.