APN Outdoor, switched on a New Zealand first on Monday July 1st in Auckland's CBD with the lighting up the city's first ever large format, high resolution, roadside Digital Billboard on Queen St.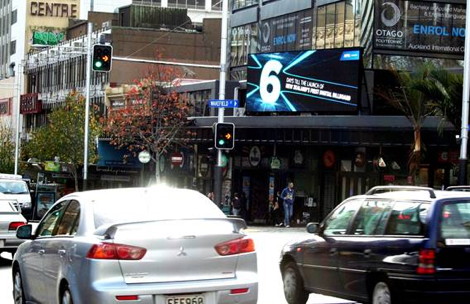 APN Outdoor invited Auckland Mayor Len Brown to do the honours and hit the switch on the Digital Billboard at the launch event.
The Digital Billboard is a 27sqm LED screen that features continuous rotating advertising on busy Queen St. Five leading advertisers simultaneously went live on the site this week; New Zealand Lotteries, BMW, Freeview, Holden and Coca-Cola.
The launch event, held at Aotea Square, directly opposite the Digital Billboard, brought together the key stakeholders who worked with APN Outdoor to bring the idea from being just a concept to a tangible reality.
Phil Clemas, APN Outdoor's New Zealand General Manager said "Outdoor is the world's oldest form of advertising, but it continues to keep reinventing itself to adapt to the changing needs of advertisers. Our launch of New Zealand's first permanent Digital Billboard keeps us right at the fore of the technological developments in our industry and delivers our clients a competitive edge for their campaigns."
The Queen St Digital Billboard is part of a bigger APN Outdoor trans-Tasman Digital roll-out strategy.