Adrian J Cotterill, Editor-in-Chief
VUKUNET recently welcomed airportmedia germany, a media company with screens at major German airports, as a new partner.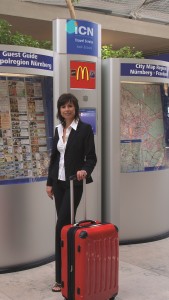 The cooperation, we are told, will facilitate the distribution of advertising campaigns to nearly sixty million travellers and visitors per year at eighteen German airports, including Köln-Bonn, Hannover and Nurnberg.
airportmedia germany has established travel service lounges at highly frequented airport locations, which form a travel service network (TSN) that provides international, regional and location-based travel guidance.
Dirk Hülsermann, Manager of DOOH Solutions at NEC Display Solutions Europe told us "airportmedia germany delivers valuable content to German airport travellers and visitors. This makes it an ideal channel for advertisers seeking the best outreach to their target audience. With VUKUNET it now becomes possible to advertise to a highly targeted audience in real-time and therefore maximise the dynamic and flexibility of DOOH media,".
Wolfgang Rossband, General Manager at airportmedia international said "With VUKUNET our network of DOOH media becomes even more interesting. The platform convinced us on many levels: The ease of use and detailed monitoring of campaigns gives media agencies new possibilities of reaching their audience in a very targeted way. Users of our devices can now reach German airport travellers and visitors with just a few mouse clicks."
The biggest installation of airportmedia germany travel service terminals is currently at the Köln-Bonn airport, which reaches nearly fifteen million people per year, while installations at smaller airports such as Bremen target between three to five million travellers and visitors annually.
About airportmedia germany GmbH

airportmedia germany GmbH is part of the airportmedia group and has its German headquarters in Constance, Germany. airportmedia germany deals with the distribution of multimedia advertising formats and intelligent information and communication technology at airports and highly frequented places along the routes of a mobile society. Advertisers reach an highly mobile target group in the attractive premium environment at airports through intensive customer contact and through emotionalising and synchronized digital advertising media. Wolfgang Rossband is General Manager of airportmedia international.