Clinique's first ever out-of-home billboard campaign in Australia featured two static billboards that had to be specially lit in order to demonstrate the 'glow' the product can deliver its users.
oOh!'s in-house design and production team developed a halo effect around the bottle on the billboard creative, to give the appearance of light radiating from the bottle day and night (shown below on a static billboard).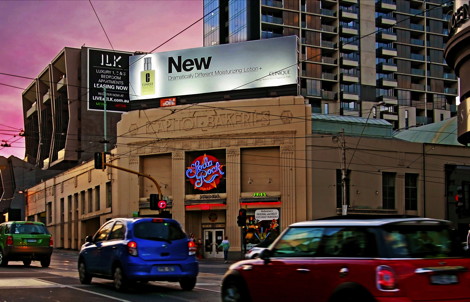 The effect was created by mounting a 2D extension of the bottle over the top of the existing billboard and back lighting it using LED lights. The light radiates from beneath the bottle extension and out to the sides to give the impression of a halo.
The Clinique Halo billboards can be seen at Taylor Square, Darlinghurst in Sydney and the Chapel St and Toorak Road intersection in Melbourne day and night.
The Halo billboard campaign will run until September, supported by a national landscape digital pack (shown below) in key shopping centres until the end of August.
Clinique marketing manager, Renee De Celis, said it was time to think differently for its biggest launch in 40 years. "We're advertising on billboards because we want to make a bigger statement and reach a larger broadcast audience"