Gail Chiasson, North American Editor
Nokia and the London art gallery Tate Britain were brands named as successful at Ocean Outdoor's annual Art of Outdoor Digital competition, which celebrates pushing the creative boundaries in digital out of home advertising.
The winners were announced at an awards ceremony at London's IMAX cinema before an audience of more than 400 guests from the UK's media, creative and advertising sectors.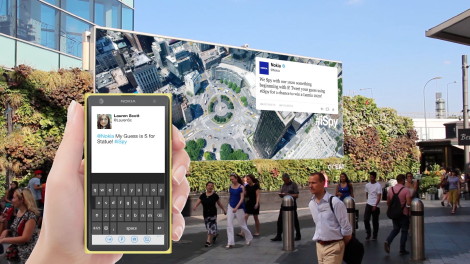 Twitter Ads UK's entry, created to promote content sharing and social conversation as a powerful source of social currency, adapts the popular guessing game of #iSpy to promote Nokia Lumia's superb photographic capability. Twitter Ads UK's entry won the interactive and experiential category.
The winning entry for Tate Britain, created by Liveposter, uses DOOH's real time data capability to showcase the gallery's extensive art catalogue, linking works of art according to day-part, prevailing road and weather conditions. For instance an image of William Turner's, 'The Storm' accompanies a weather forecast for bad conditions. Liveposter's entry for Tate Britain came first in the DOOH techniques category.
Entries were judged by a panel of industry experts for their visually stimulating and innovative approaches, using digital techniques including full motion, layering, subtle motion, time sensitivity, augmented reality, data streaming and convergence with other digital media platforms.
"This competition recognises and rewards new ways of thinking, digital out of home providing both the canvas and the palette to express these new creative ideas," says Tim Bleakley, Ocean Outgdoor's CEO. "The number and quality of entries this year helped to create an exceptional shortlist, reflecting the creativity community and media businesses growing love for digital out-of-home. Our winners are striking in the strength of their highly visual ideas combined with great use of technology and they deserve to be recognized for the immediacy and relevance to their target audience."
Rich Sutcliffe, digital development director at Brand Republic, which partners Ocean Outdoor in the competition, says, "What really comes through in this year's competition is the importance of integration and collaboration in a highly visual medium which offers incredible flexibility through its data and technology."
The winners share a prize fund of £450,000 across Ocean's premium outdoor sites.
Winner – Interactive and Experiential category:
Agency: Twitter Brand Team
Brand/Campaign Nokia Lumia #iSPY Twitter uses Nokia Lumia's 41 megapixel camera to challenge the British public to a national game of #iSpy, brought to life across Ocean's digital outdoor network and on Twitter itself. The campaign communicates the social functionality and technical innovation of the Nokia smartphone using high quality photographs to challenge audiences to spot the answers hidden within a series of featured pictures. The winning players are featured across Ocean's The Grid network and on Twitter simultaneously. Judges' comment: "The idea of digital iSpy is a great, clean concept. The idea works and is very scalable."
Second – Interactive and Experiential
Coca-Cola
Agency: BETC London
Brand/Campaign: Diet Coke BETC London and Diet Coke resurrect the memorable Eighties hunk TV advert for this interactive campaign which invites people to use their mobile phones as cans of coke to interact with the male pin-up. On joining the Diet Coke wi-fi network, people are connected to a Diet Coke can on the screen, which they then shake, showering the hunk – who obligingly undresses to reveal a rippling torso once his T-shirt is soaked. Judges' comment: "The campaign wasgreat fun, modernizing the iconic 80s message by allowing audiences to become part of the advert by interacting with the hunk. Using mobile phones as a can of diet coke is great idea and the concept will come alive on the screen."
Third – Interactive and Experiential
The Brain Tumour Charity
Agency: M&C Saatchi
Brand Campaign: MindPong To increase awareness and public donations to the Brain Tumour Charity, M&C Saatchi has created an interactive game of ping-pong, which is controlled using the players' minds. People pay £1 to have a go at mind-pong using headsets to control the bats through electrical signals in the brain. Judges' comment: "This is a simple but relevant use of the power of the mind for a brain charity. The connection between the action and the cause is strong."
Winner – DOOH techniques category
Tate Britain
Agency: Liveposter
Brand Campaign: Tate Britain
Collaborators: Total Media, Posterscope Tate Britain's arty showcase on Two Towers West is a data driven campaign using hundreds of images from its extensive catalogue to re-engage with Londoners, visitors and international tourists. Different pictures, drawn from more than 500 years of British art, are automatically triggered across the two screens according to specific events or conditions such as the time of day, the traffic flow, social advocacy, the weather and inbound flight arrivals in this multi-language campaign. Judges' comment: "Liveposter's campaign demonstrates charm and consumer insight. The link between display and what they are offering is great and matching the art to the environment is a fantastic concept."
Second – DOOH Techniques
Bentley
Agency: Talon
Campaign Name: Personally Crafted
Collaborators: Grand Visual Talon deploys smart traffic sensor technology to deliver personalized messaging showcasing Bentley's superior craftsmanship and luxury features according to the traffic and weather conditions on Ocean's Two Towers East and West roadside locations. Judges' comment: "This is a solid idea which is quite cool as it hones in on a single moment. For the creative to be impactful, you need to create the whole experience of being in a Bentley."
Third – DOOH Techniques
Net-a-Porter
Agency: PSI Advertising
Collaborators: Havas Media The online luxury fashion retailer Net a Porter uses real time weather updates and gender recognition technology to serve highly personalized adverts reflecting the relevance of their designer collections to either male or female audiences and the prevailing environment or seasons. Judges' comment: "This is a clever way of changing copy and the creative should sing out for itself."
All winners and a creative showcase of all the entries can be seen here.