IPC Digital Media supplied and installed Ireland's first state of the art digital signage solution for Tesco Off License in The Merrion Centre in Dublin.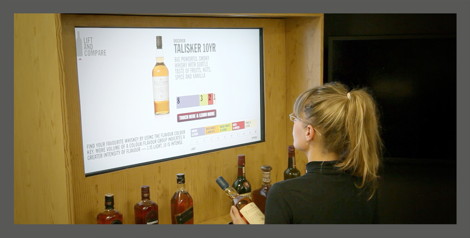 The brief was to create a Tesco Off License store of the future that was both scalable and sustainable, to enhance Tesco customers' shopping experience by creating a theatre environment with engaging and interactive content at the point of purchase and to create an interactive 'Lift and Learn' whiskey unit (shown above) to demonstrate to customers the differences between various whiskeys products.
IPC supplied and fitted unique stretched LCD screens that were custom installed into the shelving fixture at customer eye level. There are eight screens in total divided into three sections. three x 38" stretch landscape screens in the beer and spirit gondola displays, two x 22" screens in the wine gondola display. There are also two x 46" portrait screens and one 46" touch screen at the entrance.
Tesco have since expanded the interactive Intertouch unit to display wine and champagne.