Gail Chiasson, North American Editor
Monster Media and Cemusa, an international provider in outdoor advertising, have announced the launch of #TSQselfie, a social engagement strategy for Cemusa's New York digital network.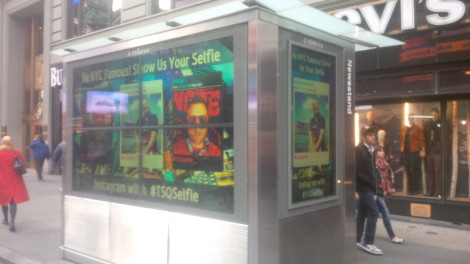 This project will allow a New Yorker or visitor to the city to take a picture of him or herself, which will then be posted on Cemusa screens in Times Square. Typically taken on a mobile device, these pictures are commonly referred to as selfies.
Designed to improve engagement, #TSQselfie will create a new avenue for advertisers to showcase their companies in New York City's most visible intersection. The application will run for 30 seconds every five minutes, 24/7 across 20 screens on 10 Cemusa newsstands in Times Square. While we've seen photos of pedestrians on individuals screens in Times Square for the last couple of years, we believe that this is the first time that a photo will appear on a full network of Times Square screens – Ed.
Chris Beauchamp, CEO of Monster Media, says, "The #TSQselfie application enables Cemusa screens to be even more engaging for pedestrians and therefore more valuable to brands and agencies. It has the perfect balance of fun and fame to get pedestrians noticing and participating."
"This is the next generation of street advertising," says Nigel Emery, vice-president of marketing and business development for Cemusa. "We're working with the Monster Media team on a long-term strategy to ensure that our digital screens remain a leading platform for brands and advertisers to reach New Yorkers and visitors alike."
According to the Times Square Alliance, approximately 350,000 people cross through Times Square daily. Cemusa and Monster Media have given selfies a much larger digital canvas than their typical social media mobile or web screens and an expanded audience in Times Square.