Gail Chiasson, North American Editor
A new 14' x 48' digital spectacular is now live on Yellowhead Trail just east of Highway 216 in Edmonton, Alberta, the only board of its kind in an otherwise advertising-free location.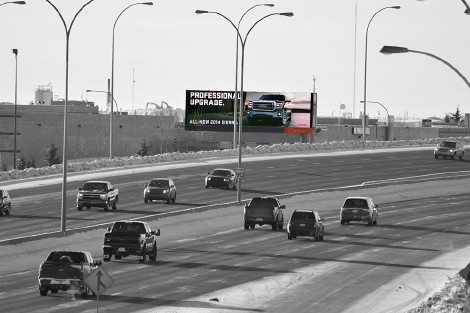 It's the first in a series of digital expansions happening across the country for Cieslok Media following the recent purchase of the Canadian division of Titan by Jörg Cieslok, former executive vice-president and general manager, Titan Canada, in partnership with private equity firm the Clairvest Group.
"The growth plans for Cieslok over the next few years are aggressive, with digital and new technologies at the forefront of plans," says Chris Bentler, Cieslok Media vice-president of operations and business development. "Creating structures in major markets where there is high demand and low inventory will also be pivotal in our development plans. Our focus is not only to build the largest boards in the industry, but to ensure these structures are in hand-selected locations we know our clients are after."
"This is a spectacular board in an incredible location and we are proud to have this as the first completed development project post our purchase of Titan," says Cieslok, president and CEO, adding his excitement for the future of both his company and its clients.
Cieslok Media is a major large-scale out-of-home media supplier in Canada with offices in Toronto, Montreal and Vancouver. Boasting some of the most viewed and sizable inventory in the business, including the most signage available at Yonge and Dundas Square in Toronto, Cieslok Media's roster has both history and innovation, with ownership of legacy boards (in market for over two decades) through to the latest in high-tech digital.
Mobile advertising elements such as geo-targeted, in-app banner ads as well as unique digital capabilities like live streaming video, RSS feeds from Twitter, Facebook, news and sports updates, and the ability to display multiple creative elements all play a key role in the Cieslok network.