PepsiCo has launched an innovative campaign across digital out of home (DOOH) that integratesVine videos into Pepsi Max creative in real-time. The campaign was planned by OMD UK in partnership with Talon Outdoor, created by AMV with Vine moderation from Jaywing.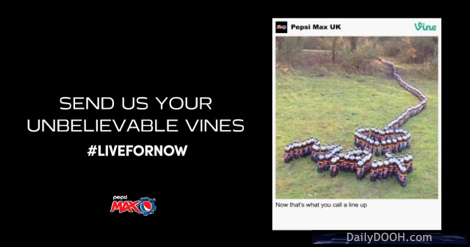 Vine, the six-second social video platform owned by Twitter, has never been integrated into real-time DOOH before and through social media,Pepsi Max is encouraging members of the public to create and submit their 'Unbelievable' Vines using the hashtag #LiveForNow; the best submissions will be curated by AMV and Jaywing and integrated into the DOOH creative.
The campaign went live today (Monday 17th February) on The Grid, Ocean Outdoor's network of large-format full-motion screens, spanning seven of the UK's largest cities.