Adrian J Cotterill, Editor-in-Chief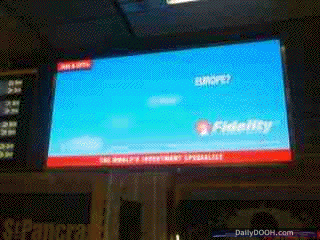 The picture shows the first Titan Outdoor large screen LED that you see as you enter St Pancras Station, London from the (still being finished) Car Park. There may be other LEDs there that we haven't seen (yet).
It's no where near the size of the Titan Transvision screens at other UK Rail Stations.
Discrete inorganic light-emitting diode (LED) screens are one of the few screen display technologies that can work well in high ambient light conditions (whatever people say about / demonstrate high brightness LCDs – though we are interested in seeing the new ones on display at ISE and Screen Expo).
LED of course also has the advantages of long lifetime and high reliability, although it does have significant downsides in cost (especially if you want detail, high resolution and as we shall see, close viewinng distances).
Being close to an LED means that the (perceived) resolution and picture quality is poor – there is a reason why in football stadiums the LED screens are placed very high up in the stands and this is the reason also why when a TV camera zooms into watch the action at the side or end of the pitch where there is a dynamic moving billboard the billboard disappears (you cannot see many LED displays if you are up too close either).
This is because LED has a basic problem with fill factor. The area of the display actually occupied by the display pixel is small relative to the full display surface. This means that as the viewer gets closer, there is a pixelation affect upon the image.
There is a rule of thumb for LED display makers (and installers) in that the minimum viewing distance is around the same number of metres as the pixel pitch in millimetres.
For example; the effective minimum viewing distance of a 3mm LED screen is 3 metres, or 6 metres for a 6mm.
To be safe and in order to get a reasonably good quality picture, you would most probably wish to add on 50% more distance as well.
I am afraid that the Titan LED is just too close to the viewing public and the images and the adverts displayed on it are made to look of poor quality.