Shopper Marketing Specialists Visualise and Digital Media Specialists iDklic announced a few weeks ago the imminent rollout of a digital signage network created specifically for the pharmacy market.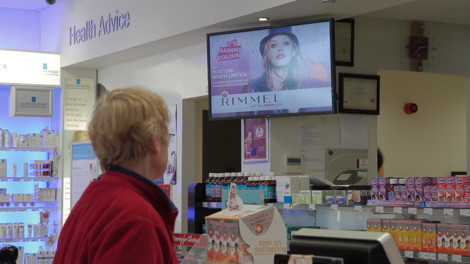 Sam McCauley TV, based on iDklic's PharmaSeen TV concept, will be implemented throughout the Sam McCauley Chemists Group and will provide a wealth of benefits to the Group, their suppliers and shoppers.
Sam McCauley, Executive Chairman of Sam McCauley Chemists group said "We are delighted to partner with Visualise and iDklic in launching Sam McCauley TV. The network will provide engaging, relevant, health-related content for our customers whilst providing us with the opportunity to promote our products and additional services in an impactful and dynamic manner."
According to Managing Director of Visualise, Ciaran FitzGerald; "The pharmacy environment is an ideal location for digital signage due to the fact that you have a captive audience of shoppers actively seeking information on products and services available to them and digital signage enables you to deliver these messages in a dynamic, eye-catching manner. We are thrilled to partner with such a progressive retailer as Sam McCauley's in launching this concept in the Irish market. Sam and his team immediately saw the benefits that the network could provide for them, their suppliers and their shoppers. We are really looking forward to working closely together over the coming years".
In launching Sam McCauley TV, Visualise decided to partner with Belgian digital media specialist iDklic as preferred digital signage operator and supplier – iDklic's PharmaSeen TV network currently runs in 1500 pharmacies throughout Belgium and their portfolio of advertisers includes the likes of Reckitt Benckiser, GlaxoSmithKline, L'Oreal, Novartis, Pfizer, Bayer, Merck, Sanofi and many more.
Jean-Charles Figoni, CEO of iDklic told us "I strongly believe that we found the formula to make PharmaSeen TV profitable for all parties. It is what I call win3 : retailer, advertiser and clients all benefits from our concept and approach. With Visualise, we predict a ROI in less than 12 months".
The PharmaSeen TV concept, created by iDklic in 2006, enhances the shopper experience, and reduces perceived waiting time, with a content loop which includes informative health and wellness content, pharmacy specific information and promotions and relevant third party advertising. It enables pharmacists to inform their customers of promotions and additional services available to them while also providing their suppliers with a platform to reach their target audience and drive sales at the point of purchase on an attractive and dynamic format.
Jean-Charles Figoni, pointed out that his company is also initiating contact with giants of the pharmaceutical sector, with the aim of deploying networks in other countries in Europe, China and United States. "As with any other big objective, we are aware of the patience and hard work required but we are strongly aiming to become a worldwide leader in digital signage inside pharmacies and drugstores with our PharmaSeen TV concept and business model".