Russ Curry, Ministry of New Media
New York Digital Signage Week has been included in the list of dates for NEC Display Solutions always popular Showcase Tour.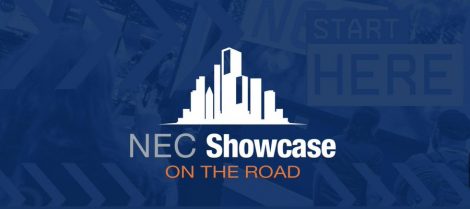 At each NEC Showcase you wil be able to: –
Explore the latest visual solutions brought to you by NEC and our Alliance Partners.
Hear from industry experts about privacy, security, engaging and influencing consumer behavior, making digital interactions more dynamic, measuring and establishing digital practices bases on analytics and much more. See each show for specific topic details below.
Earn CTS credits.
The dates are: –
Chicago, NEC Briefing Center, August 28, 2019, 3pm – 7pm CST
Toronto, Paramount Eventspace, September 11, 2019, 11am – 7pm EST
New York, Canoe Studios, 601 W 26th Street, October 16, 2019, 11am – 7pm EST
San Jose, CA, Club Auto Sport, March 4, 2020
Tustin, CA, Marconi Automotive Museum, March 11, 2020
You can learn about each of these above and register for those three taking place in 2019 here.