As regular readers will know, on the last Friday in every month we feature in our CEO Spotlight, the biggest, brightest and most innovative DOOH media owners.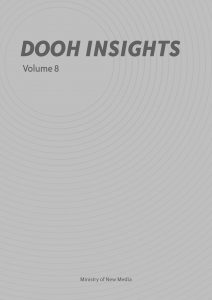 This year we featured Simon Wall, Tractor Outdoor, Phil Daniel, Admedia, Managing Director Sales and Marketing, Chad Harris, Las Vegas Billboards and Phil Clemas, LUMO Co-Founder and CEO and John Partilla, Screenvision Media's CEO.
We now turn our attention to print. All of these online spotlights play a key part in our industry bible DOOH INSIGHTS: Volume 8 which will be ready for distribution in London in September and in October during New York Digital Signage Week.
This year, the industry bible also has a special focus on all things AdTECH. As Automation and programmatic buying starts to make a bigger impact on the out of home industry, something we predicted would happen back in 2016, it's only fair that we offer up a fair chunk of editorial to this important subject. Volume 8 features executive thought leadership from the likes of Broadsign Reach's Adam Green, Hivestack's Andreas Soupliotis, Place Exchange's Dave Etherington and VIOOH's JC Conti.
In 2018 we interviewed Karine Moses, President, Astral at Bell Media and Vice-President, Bell Media Sales Québec (TV/Radio), Montreal (recently promoted to Présidente Bell Média Québec), Mike Tyquin, CEO, Adshel , Sydney, Candice Simons of Brooklyn Outdoor, Jeroen Hillenaar of Hillenaar Outdoor, Ben Walker, Shopper Media Group, Australia and François de Gaspé Beaubien, Chairman and Chief Coaching Officer of ZOOM Media and Executive Chairman of Hivestack (majority owner of both) and Chairman of the DPAA.
All earlier CEO Spotlights (and we have 10 years' worth now) are available online (click here), as well as in print in the following series of books: –